WELCOME THE AUSPICIOUS LUNAR NEW YEAR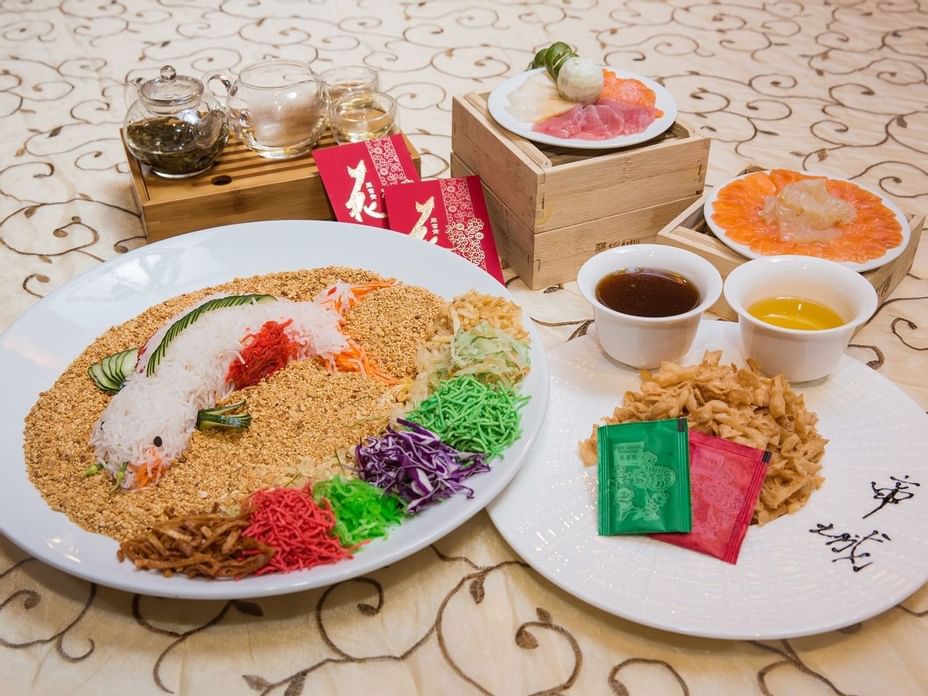 This year's Lunar New Year menu will be made available exclusively for our guests from 8 January till 28 February 2022 from 12 pm – 3 pm (lunch) and 6 pm – 10 pm (dinner). Except on 1 February 2022.
"We have incorporated a special menu this year for our guests to indulge and cherish moments of feasting in prosperity with the traditional set menu style meal packages that have been created targeting corporate clients, families and friends to toss and celebrate the mark of the season where treasure, good health, peace and happiness comes forth," says Chef Lim Chee Woi, Chinese Executive Chef. "Once again we are delighted to celebrate the New Year of prosperity with all our valued guests at Saujana and welcome the prosperous New Year".
The affordable set meal packages for five to ten people cover a full range of time-honoured favourites including roasted chicken, wok-fried sea prawns with Chef's signature sauce, steamed mini glutinous rice, double-boiled vitality 5-head abalone soup, house specialty smoked duck, steamed fish coral grouper, steamed 'Koi Fish' Chinese New Year Cake with grated coconut, and much more.
The meal packages also come with three different varieties of Yee Sang, a customary dish flavoured with blackcurrant plum dressing and crispy shredded treasures, which is tossed to symbolise good luck, health, prosperity and all things favourable.
The price for set meal packages ranges from RM1,380 for the Spring and Happiness Set, RM1,600 for the Everlasting Prosperity Set and RM 2,000 for the Fortune Longevity Set inclusive of service charge and SST. Also available during the festive season is Ti Chen's Chinese New Year A 'la Carte mix-and match menu.
The set meal packages come with pairing options, The Glenlivet Founder's Reserve, Beringer Main & Vine Cab Sauv, Martell VSOP Red Barells or Jing Iron Buddha Tie Guan Yin.
For details of the Chinese New Year promotion or to book online, please visit www.saujanahotels.com – promotions, or call (603) 7843 1234 ext. 6122, or email at dine@thesaujana.com
Menu: https://bit.ly/3Gn3uWr