Saujana Hotels & Resorts Gathers Support For Underprivileged Community in Bhutan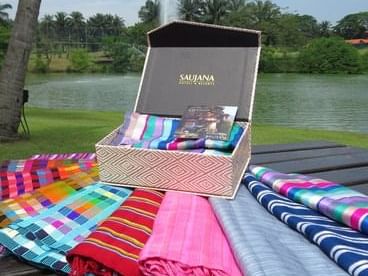 KUALA LUMPUR, JUNE 2016 – Saujana Hotels & Resorts is partnering with Ana by Karma, a non-profit social enterprise in Bhutan that fosters sustainable change in lifestyle and levels of self-sufficiency for mothers and their children in the Bhutanese community struggling with poverty and illiteracy.
Acquiring a range of traditional hand-woven scarves made by the social enterprise's weavers, Saujana is readily engaged to host the sales of these hand-woven scarves, and is donating all proceeds from the sales of these scarves to support the organisation.
The hospitality group is hosting this charity fundraiser for Ana by Karma from June 2016 onwards at two of its key properties in Kuala Lumpur – The Saujana Hotel Kuala Lumpur and The Club Saujana Resort. With each scarf on sale at RM180, one hundred percent of all collections go directly to those in need, helping them get through the day and beyond.